At Dimensional, we want to change the way the world thinks and feels about investing.
Dimensional's global team includes hundreds of passionate people with diverse experiences, education, strengths, and talents. Together, we are dedicated to creating better tomorrows—in investing and in life. With a learning mindset rooted in academia and powered by the great ideas in finance, we pursue what we believe are the strongest solutions, not the easiest ones. And we know we can achieve more together than we ever could as individuals as we endeavor to help improve investors' lives.
The Employee Experience
Join a dynamic and diverse global team.
Dimensional wants employees to enjoy purpose-driven careers that are challenging and evolve over time. We believe our inclusive workplace and highly talented workforce help propel individual and firm success. If you don't see a role that aligns with your qualifications, but you like who we are and what we do, we encourage you to apply.
INTERNSHIPS
Are you an undergraduate or graduate student looking for a summer internship? Our positions offer current students the chance to explore careers in asset management by gaining real life work experience and meaningfully contributing to Dimensional.
Early Career & Transitions 
Are you looking to propel your career after a few years in the workforce? Are you interested in trying something new? Our early-career roles offer opportunities to learn about the asset management industry as you build valuable skills and professional relationships.
Experienced Professionals 
Are you an experienced professional looking for the next big step in your career? Learn more about how you can leverage your skill set to make an impact on our high-performing team in an environment that supports innovation, growth, and development.
Dimensional believes in the value of collaborating in our offices and also providing opportunities to work outside the office. Most roles fit our "best of both" hybrid approach: We are together on our campuses on Tuesdays, Wednesday, and Thursdays and have the choice to work where we work best on Mondays and Fridays. This approach maximizes in-person collaboration and interaction while simultaneously providing flexibility.
Discover Dimensional
The great ideas in finance—and a global workforce dedicated to implementing these ideas—drive Dimensional to deliver solutions specifically designed to help clients achieve their goals.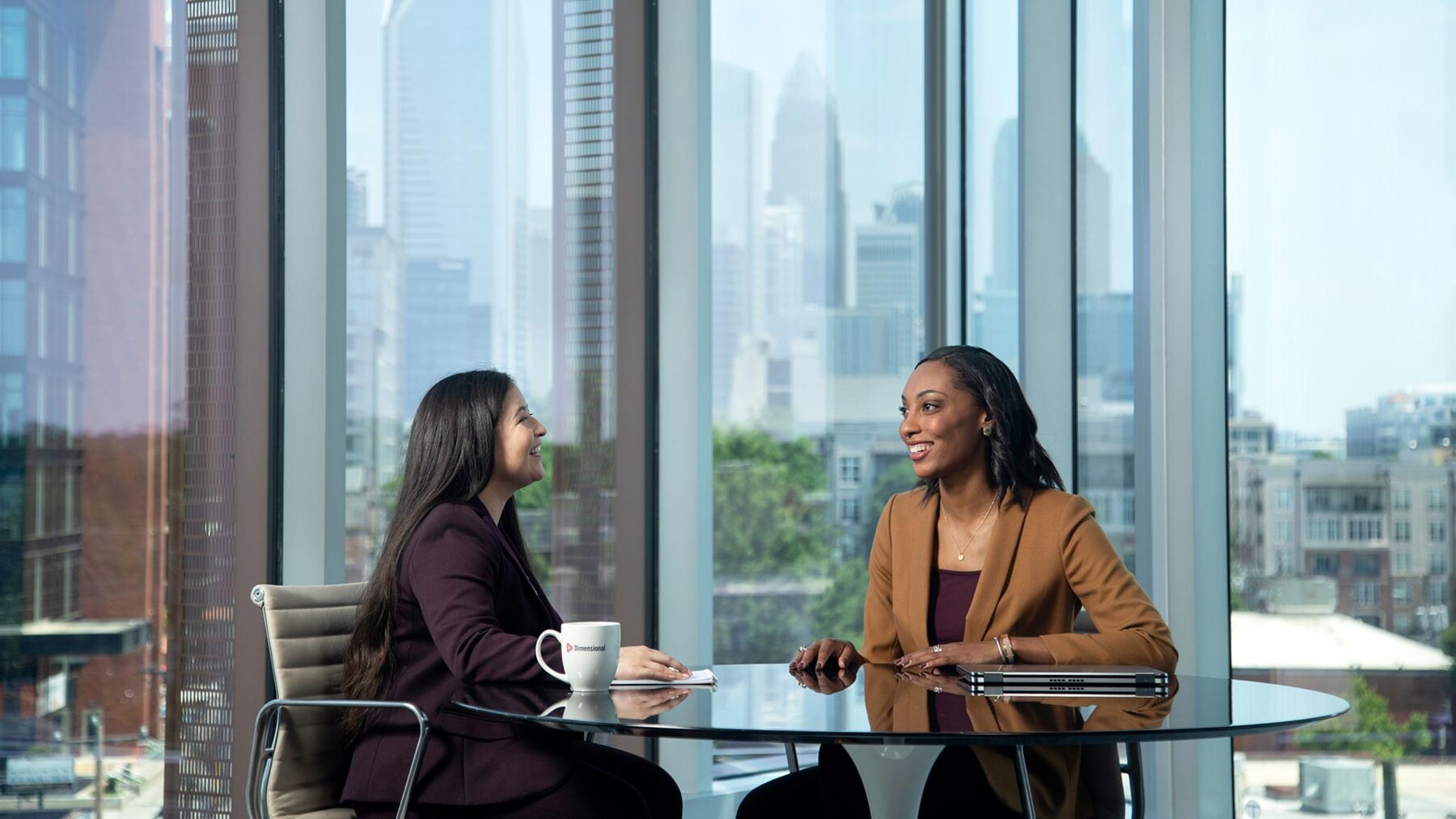 At Dimensional, we celebrate differences and recognize that our strength lies in the unique backgrounds, experiences, and points of view each person brings to the organization. Our collaborative work environment supports a variety of perspectives and encourages open debate. That's why we strive to attract, hire, and retain a diverse team of talented colleagues who all contribute to our greater purpose of serving our clients and investors.
"I love that we are all about community. We work together to find the best solutions, unite through networks that allow us to discover commonalities, and help clients build their own sense of community."
– Ashley
Client Communities
A collaborative employee experience
From firm-level strategies to grassroots efforts, we provide learning opportunities and initiatives focused on awareness, community, and education. Our employee-run Inclusion Networks—open to all colleagues across the globe—help unite us in our work. And our state-of-the-art office spaces are intentionally designed to encourage conversation and collaboration.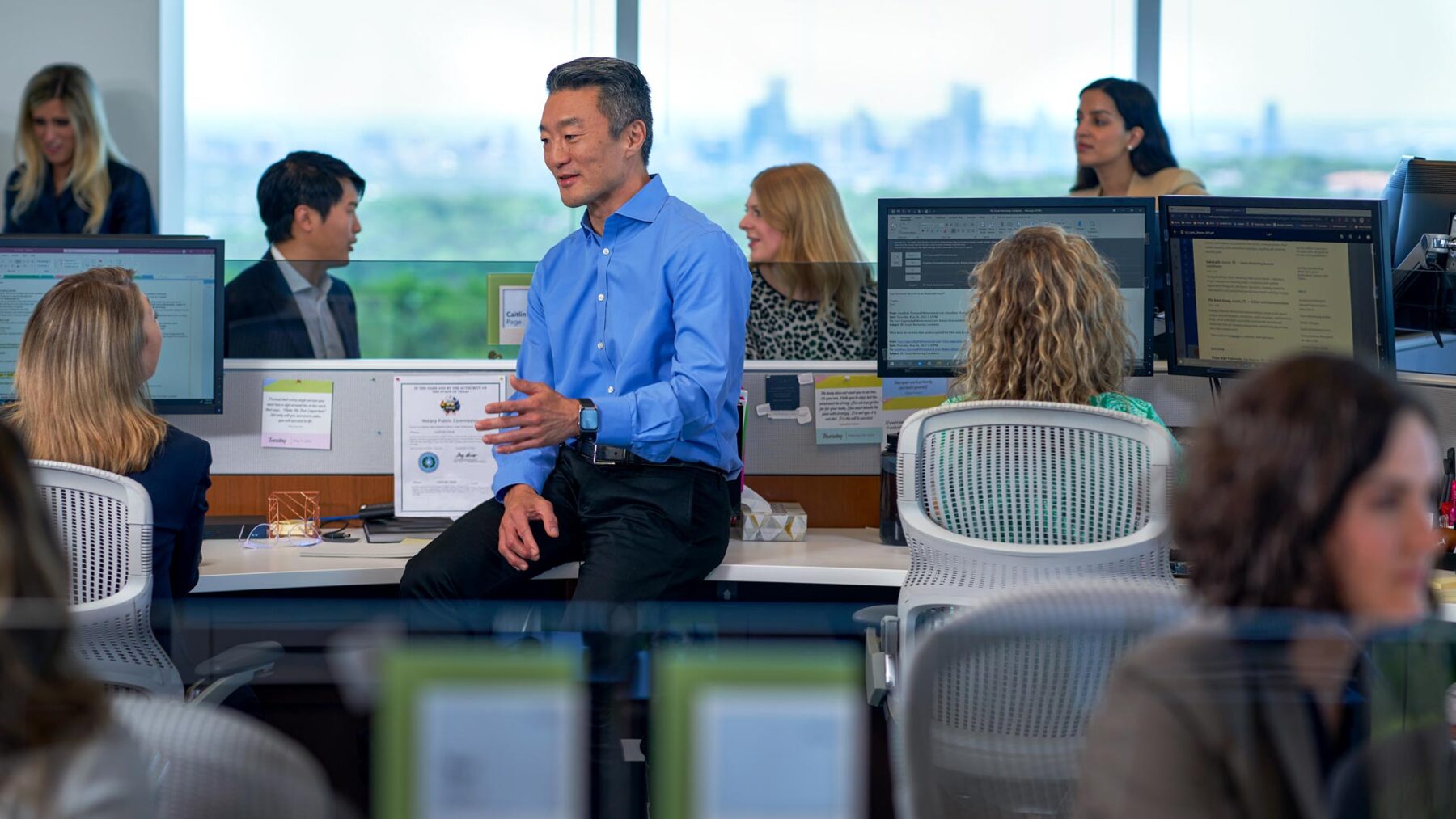 We want to improve lives by changing the way the world thinks and feels about investing. We do not change our investment philosophy based on the latest fads. Instead, we believe in being prepared for the market's ups and downs, and we offer tools that encourage sticking with a long-term investment plan.
"We help investors focus on what's important—understanding where returns come from, staying diversified, and staying disciplined—so they can have the investment experience they deserve."
A deeper meaning 
We aim to serve as a conduit for ideas that go beyond our walls and make a difference for our clients and our communities. We strive to help our employees understand how the work they do contributes to the collective impact of our firm.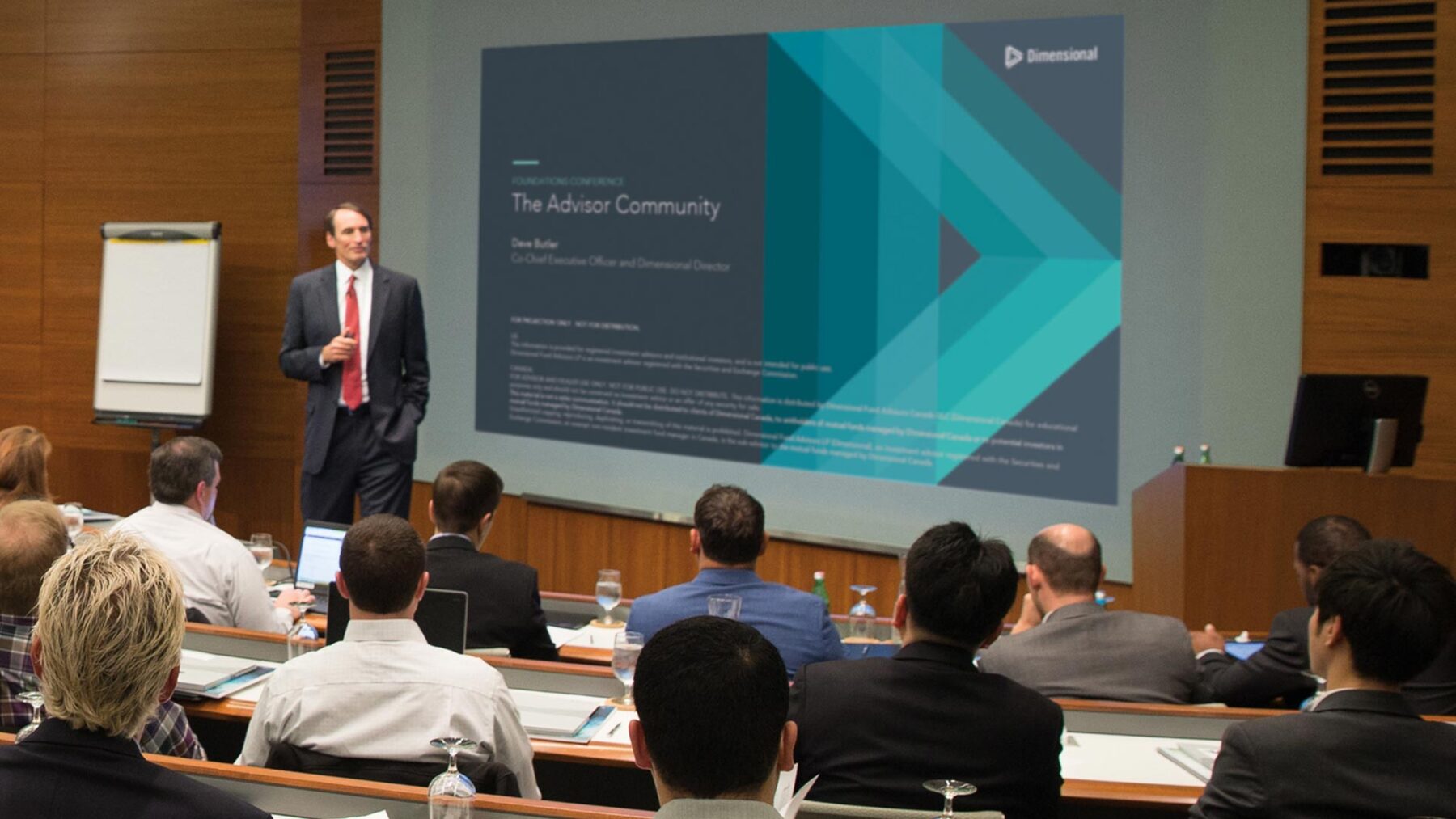 We support employees in their pursuit of learning through Dimensional University, a global, interactive, immersive experience that helps them grow their knowledge base and empowers them to achieve their goals. We encourage employees to pursue positions inside or outside their department within any of our global offices, because we want our colleagues to have opportunities to be challenged and grow their careers. The portfolio of benefits we offer—from a hybrid work approach to competitive rewards, a deep commitment to fostering a diverse and inclusive environment, and much more—signifies our long-term commitment to employees and contributes to a culture known for its healthy work-life balance.
"I never imagined how I'd be able to grow at Dimensional or that I'd be lucky enough to be given the opportunity to build my current job from the ground up. I'm excited for what's still to come."
A team environment 
We rely on teamwork to develop the best solutions for our clients. Our people do not need to have a specific title or level of expertise to find the winning answer. We believe that smart solutions come from everywhere within the firm, so we aim to foster a welcoming workplace where a broad range of ideas can be presented and heard.